Why Many Direct Marketers Embrace The Self Mailer Phenomenon
Snap Pack mailers are very effective in grabbing the attention of recipients, these low cost direct mail pieces work great. Prospects are bombarded with all kinds of direct mail offers, including letters, postcards, brochures and catalogs on a daily basis. How do you get them to open your offer? It's no secret a large percentage direct mail goes directly into the trash without ever being opened or read. That is rarely the case when snap packs are used. A Snap Pack Mailers ability to look official and often give the illusion of checks or very important sensitive material makes them unique and attention grabbing. Industry statistics show that snap pack mailers have over a 96% opening rate. That means that people who receive snap packs almost always pay attention to them.
That kind of attention is exactly what you want for your direct mail campaign, and it's what we can help you achieve. Whether you are looking to launch a highly targeted consumer direct mail marketing program or a B2B direct mail offer, snap packs may be the best way to ensure that your message is seen. Snap packs can be used effectively for all kinds of direct mail needs: mortgage direct mail, reverse mortgage direct mail, automotive, new movers, new homeowners, residential direct mail, business direct mail. The list goes on.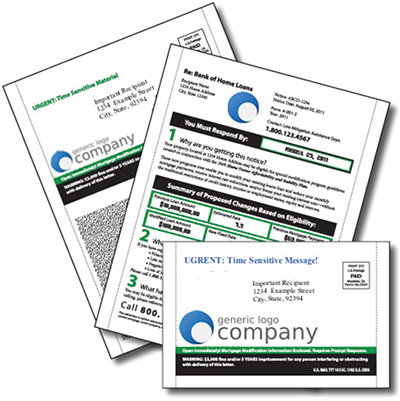 Snap Pack - Self Mailer Advantages:
Quick to Produce
Official Look with a High Open Ratio
Budget-Friendly
Larger Message Area
May include a perforated check or coupon
Can include a self-contained return envelope
May also have a perforated L Shape 4 x 6" return reply card
Can Include gift cards, coupons, scratch offs and more
Gloss, Satin & Matte Coating Options
Many Paper stock choices and colors
Common Sizes:
8.5x11 / 10.5x18 Trifold • 12x10.5 Bifold